About Us
James R. Marsh
President
A University of Michigan Law School graduate, James represents victims of sex abuse in schools, colleges, churches, and government and military institutions; campus sexual assault and rape, online sexual exploitation; child pornography; sextortion, and revenge porn.
His case on compensation for victims of child pornography in federal criminal restitution proceedings was recently decided by the United States Supreme Court. That case, United States v. Paroline, led to the Amy, Vicky, and Andy Child Pornography Victim Assistance Act of 2017 which recently passed the Senate by unanimous consent and is pending in the House.
James founded the nationally recognized Children's Law Center in Washington, DC, and is an experienced trial attorney, and frequent commentator, lecturer, and author on legal issues affecting children and victims of sex abuse and exploitation. He now leads Marsh Law Firm in New York which is recognized worldwide for its work helping sexually abused victims obtain justice and rebuild their lives with dignity and respect.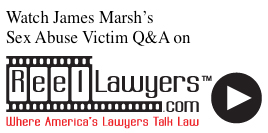 ---
Jennifer Freeman
Vice President
Jennifer Freeman has been litigating cases in New York for over thirty years. She is well known as a resolver of disputes and has worked tirelessly at the forefront of groundbreaking legal developments to protect children from sex abuse, child pornography and victimization. She has obtained countless restitution awards for child sex abuse survivors, and secured reparations for victims of abuse by teachers, family members, Big Brothers, camp personnel, clerics and others.
Jennifer has spearheaded numerous confidential mediations and fashioned mass dispute resolution procedures to protect privacy and dignity. Recently, she worked on the landmark Supreme Court decision in United States v. Paroline which established for the first time that all participants in the child pornography market were responsible to their victims in damages. She has worked with the National Women's Law Center and assisted lobbying for statutory change for sex abuse victims in the Amy Vicky Act.
Jennifer graduated from Cornell University and the George Washington National Law Center where she was Editor-in-Chief of the George Washington Journal of Law & Economics. After clerking for the Honorable John R. Brown, Chief Judge of the United States Court of Appeals for the Fifth Circuit, she began her legal practice at Shearman & Sterling, and later joined the Marsh Law Firm. She has served as Special Master for New York Supreme Court Judge Beatrice Shainswit, a member of the New York Judicial Screening Committee, and a scrivener for the City Bar Association Committee for the Homeless. She has spoken at conferences about sex abuse issues, most recently In Davos, Switzerland, serves on the Board of a Cuban arts organization that supports young Cuban artists, and has fundraised for children's charities. She is a member of the New York and Texas bars.
---
Katie M. Shipp
Secretary
Katie M. Shipp graduated cum laude from Allegheny College and the University of Pittsburgh School of Law where she received the CALI award for Family Law and Business Organizations. Katie was also the Lead Articles Editor for the Journal of Law and Commerce. Prior to joining the Marsh Law Firm, Katie served as an advocate for children at KidsVoice in Pittsburgh, Pennsylvania and the Children's Law Center of Massachusetts.
Katie published an article titled "Wilderness Therapy Settings: An Industry in Need of Legal and Regulatory Oversight" in the Michigan Child Welfare Law Journal and presented the paper at the 19th International Conference and Summit on Violence, Abuse and Trauma.
---
Robert Y. Lewis
Treasurer
Robert Y. Lewis has been litigating and trying cases around the country for thirty years, with an 85% win record on cases going to verdict. As a federal prosecutor in Los Angeles between 1990 and 1994, he worked tirelessly to ensure justice for crime victims and the public at large. More recently, as a partner of the Marsh Law Firm PLLC, he has devoted his practice to representing survivors of childhood sexual abuse.
Robert believes strongly that for too long institutions, both private and governmental, have turned a blind eye to sexual abuse being perpetrated in their midst, and that it is high time to hold them to account for the crimes of their employees and agents. He is currently lead counsel in a major case brought in federal court in North Carolina on behalf of five young boys suing the United States Army for the repeated sexual molestation they suffered at the hands of a teacher at an Army school.
Robert is a graduate of Grinnell College, where he was inducted into Phi Beta Kappa, and the Stanford Law School, where he served as a Notes Editor on the Stanford Law Review. After law school he clerked for the Honorable Harlington Wood Jr. on the United States Court of Appeals for the Seventh Circuit in Chicago. In 1985 and 1986, Bob studied international criminal law in Germany as a Rotary Fellow. He has a perfect 10 rating with AVVO and has been designated as a Preeminent Lawyer with an AV rating by the Martindale-Hubbell law directory. Robert is admitted to practice in New York, California, and Kansas.